Your Boynton Beach irrigation repair professionals

Caught up with Paperwork? Leave the Hassles to Us
Water use regulations are enforced throughout Florida, including Boynton Beach FL. These regulations vary by county, city, and water district, and can change at a moment's notice. Irrigation usage meters, backflow systems, and rainfall meters are all required by law, and every piece of required equipment requires proper permits, fees, and approval. Once you have your irrigation system fully set up, there are even more regulations that you must adhere to.
Our Boynton Beach Team is on your Side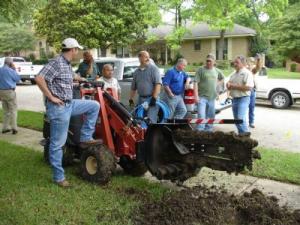 We bring experience of hundreds of installations to the table. As your Boynton Beach irrigation repair pros, we know exactly how to navigate the world of water conserving irrigation systems, and we are certified and licensed to do it.
Our Specialties:
Water conservation and green practices
Micro irrigation, drip irrigation, and misting systems
Smart controllers and interfaces
Irrigation upgrades
Repairs
Regular maintenance
System design and installation
We're Ready to Tackle the Toughest Jobs
If you are experiencing any of the following issues, we can help:
High water use
High water bills
Low pressure
Inadequate sprinkler coverage
Dead spots
Excess runoff
Broken sprinkler heads
System leaks
Routing issues
Timer issues
If you can't be sure what's going on, we guarantee that we will find out.
Solutions you Need, at a Price you Want
Our Boynton Beach Florida team is committed to providing our clients with the utmost level of customer service and quality workmanship. We know that all projects are different, and project budgets can vary. Each and every one of our expert technicians is committed to providing you with the best service possible to fit your needs, at a price that you can afford.